Yeah - I know, I know. It's February 2019 already and I'm only just wrapping up the 2018 calendar year! Better late than never, right?
Similar to last year, the Christmas and New Year's break (end of December) seems like a good time for everyone to take a step back and reflect on the year that has been, and I certainly did the same. I also believe it is important to have similar reflections throughout the year as well to keep a track of your goals and evaluate if your goals have changed, and adjust with those changes.
I had a good break at the end of December with 3 weeks off, which during some reflection time, I realised was the longest time I've had away from work at once since starting in the IT workforce when I was 17. Over the years I've just done a day or two here and there to extend a long weekend, and the occasional 1 to 2 week breaks to go away with the family. I enjoyed the longer break and found I was able to switch off reasonably well. So much so that it felt weird to sit at a desk and use a keyboard and mouse again at the start of the working year, which I viewed as a good thing.
Similar to last year's post, I want to do a quick wrap up of 2018 and what I'm aiming for  in 2019.
Blogging
In 2017 I was able to produce 25 posts on VirtualTassie. In 2018, that dropped down to 18 posts. Although I am a believer that a post count doesn't matter, I would like to see myself try to get out 2 quality posts a month again in 2019 (Yep, I'm already behind!).
I signed up for Blogtober again this year but I only managed to get 4 of the targeted 5 posts out during the month. At the time I remember I didn't really have a good idea for that 5th post and I did not want to write a post just for the sake of it.
I entered the top vBlog again in 2018, but as of the time of writing this posts the results haven't yet been released.
In 2018 I also received my first blog sponsor (Vembu Technologies) and I'm in discussion with two other vendors on a sponsorship model. In my initial agreement with Vembu I agreed to write some paid blog posts under the agreement, but even after just the first one I found this felt very forced and was not something that came naturally to be, or sat well with me. In the agreement I was to write 5 posts over the course of a year, but I contacted Vembu and we agreed that I would only publish two, as I already had written the second one, and would not publish any more. Our agreement moving forward is just for sponsorship of the blog, and not for any posts. This is absolutely nothing against Vembu, I am 100% sure I would feel this same way if writing sponsored posts for any vendor. But I can say I tried something, I learned my lesson and I'm moving on.
The blog has continued to have a steady rate of readership, with most months seeing in between 4 to 5 thousand visitors, so thanks to everyone that continues to read my ramblings and I hope along the way one of my posts has helped or inspired you in some way. This year I need to do a better job of distributing my posts when they are complete, because I know there are several avenues that I don't take advantage on, as I almost only just post my new post on Twitter.
vExpert
In 2018 I was awarded with the vExpert award for the second consecutive year. I'm glad that the voting committee saw my contributions as worthy to be named a vExpert. During 2018 I also applied for and was accepted in to the NSX sub-program as well. At the time of writing this post applications for vExpert 2019 are open, so if you have been thinking about applying and feel you have advocated for VMware and contributed in several ways, please do so! I'll be doing my application after finalising this blog post!
Travel
My travel in 2018 was very similar to 2017, which I found to be a really good balance. Most of the travel this year was for engagements for work, with only a couple of conferences (VMUG Usercon and VMworld come to mind). 2017 was a bit more "event heavy" for me than 2018.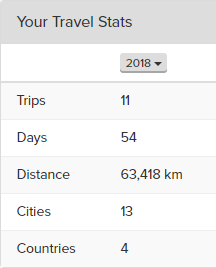 In 2018 I finally got to go back to Adelaide which was awesome, and I had a deployment for a customer in Fiji which was my first time there as well! Personally this amount of travel sits well with me. I feel I only travel for things that are required and it leaves me with a good balance of time to spend at home (I really like where I live) and with the family. Everyone's circumstances are different, but considering the industry we are in I feel that in general in this field there is way too much travel involved, when we should be leading the example and using the large amount of collaboration and sharing tools that are available at our fingertips.
VMworld
I was lucky enough to attend VMworld 2018 US in Las Vegas. This really deserved a blog post of its own, but the ship has sailed on that one.
There are many things to say about the crazy week that this event was, but the highlight for me was my good friend Tim Carman allowing me to co-present on a project he started in early 2018 - As Built Report. I don't think either of us thought the session would get accepted, and when it did we thought "yeah, they'll throw us in a room with 50 seats in the back corner of the venue". As it turns out, we had over 500 people attend the session and we had some really great feedback. So thank you to Tim for letting me present with you, it will be something I will never forget, and thank you to each and every person that turned up to the session and for those that have also watched the video replay.
We're still pushing forward with the project and have some great enhancements to announce in the coming weeks.
Secondly, our good friend Mark Ukotic entered in to the VMworld Hackathon with an idea of embedding a PowerCLI console in to the vCenter HTML5 user interface. I turned up a bit later that evening to catch the tail end of testing and of course to sport my "We use resource pools as folders" shirt:
We all use resource pools as folders!! #VMworld #hackathon @originaluko @tpcarman @mattallford pic.twitter.com/mbkOk3wDd3

— Anthony Spiteri (@anthonyspiteri) August 28, 2018
Not only did Mark rip through a presentation of the project in 2 minutes with Anthony Spiteri hilariously giving him a second-by-second countdown of how long he has left in his ear, but the judges voted and Mark's project was selected as the winner for the hackathon! Because of the win we went on to celebrate at Eye Candy where we ran in to the great guys over at the Virtually Speaking podcast, who invited us to pop by the next day to talk about VMworld and the Hackathon.
Mark and I managed to find some time before VMworld kicked off to take a chopper out to the Grand Canyon and stop by Eagle Point to hear some history about the Canyon and get some breathtaking views. This experience was much better than I thought it was going to be and it was awesome to spend the day with Mark.
Had an absolutely awesome day flying to the Grand Canyon with @mattallford pic.twitter.com/0DqbH5Kwrx

— Mark Ukotic™ (@originaluko) August 25, 2018
VMUG UserCon
Thanks to my employer, Parallo, I was again able to attend the VMware User Group (VMUG) UserCon Melbourne, in March of 2018.
UserCon remains one of my favourite events for several reasons (and I'll be attending both Sydney and Melbourne in 2019), so I was really happy to be able to fly across for the event. As usual there were some high profile international speakers as well as some local talent presenting on different technologies and aspects of the large stack that VMware now cover. Every session I attended was well thought through and the presenting was fantastic. I had some key takeaways from the day from a technology perspective that kept me busy for several weeks following the event.
In addition to the content, UserCon is a great place for networking. I caught up with many friends and industry peers and also met several new.
The crew that pull together VMUG do a fantastic job, so thank you again to the local and global VMUG teams, to the sponsors as without them the event wouldn't happen and of course those who are able to travel from near and far to come and present. If you can get to Sydney on the 19th of March or Melbourne on the 21st of March, 2019, I strongly suggest you do to attend this free event! I'll have another post on the upcoming Melbourne and Sydney UserCon events.
I haven't verbalised the below in much detail as I wanted to, but here is a recap of 2018 goals and some 2019 goals:
Certifications

In 2018 wanted to achieve 3-4 certs with one of those outside of the VMware stack. in 2018 I achieved the VCP and VCAP for NSX as well as the VMware vSAN "specialist badge". I also passed a Pure Storage exam. While the Pure cert was another vendor, it wasn't really what I had in mind for being "outside of the VMware stack"
In 2019 I'd like to pass an exam in the AWS or Azure space, pass a VMware VCAP design exam and then spend some time learning some tools and processes better that don't necessarily have exams attached such as git, Terraform and automation in general

Speaking

As mentioned in the VMworld recap above, I was lucky enough to speak at VMworld US 2018 in front of more than 500 people. Though this was the public speaking event I did throughout the year, I felt it went well and the preparation for it taught me a lot of things and hopefully I get the opportunity to expand on the lessons learned in 2019

Conference Attendance

Looking back it seems I went to 5-7 conferences / events in 2017, and I wanted to do the same in 2018 but unless I'm forgetting something, this dropped down to two events; VMUG UserCon Melbourne and VMworld US 2018. This was probably a reflection of a busy year
For 2019 I don't think I'll put a number on it, but I do enjoy attending the industry events for several reasons so hopefully I get the opportunity to do that again in 2019. At the time of writing I'm finalising my plans for both Melbourne and Sydney VMUG UserCon events in March 2019

Reading

I didn't really improve in this in 2018, but towards the end of the year I did purchase an iPad which inspired me to start reading again, mostly of an evening before going to sleep. Though I don't do it every night, it is now much easier for me to read on the iPad (as opposed to actual books or the iPhone prior) and while this isn't a 2019 recap post, that these has continued so far in 2019. With that said, the collection of books is starting to mount in the virtual library, so I need to be conscious of that

Family

I was really happy with this aspect of my 2018 year. I've been doing better at switching off during an evening and weekend and being able to focus on the family. My wife works in retail and often ends up working one or both of the days on the weekend which means I get to spend it with our two daughters. They never fail to amuse me, surprise me and most of all make me proud. Our eldest daughter started Kindergarten (Primary school) in 2018 and has recently started prep which is 5 days a week. It's currently the weekend and she is itching to get back to school - let's see how long that lasts :)

Guitar

I wanted to do a lot more of it (more than 0) in 2018, but sadly this didn't really happen. I need to make time for this in 2019. Period. I can see them staring at me from the other side of my office …

Health

In 2018 I had some goals to lose 10Kg and go for a 30 minute walk at least 5 days a week. Sadly, neither of these things happened
We're 60 odd days in to 2019, and I'd say for 20 of those days I have done a 5km walk. I'm also playing social basketball once, if not twice a week. I'd love to get back to how I was feeling 10 years ago from a health perspective, but I have a lot of hard work to do for this to be a reality
All in all, 2018 was for the most part, a really great year. There were a lot of highs, not so many lows and it is a year I can reflect on and honestly say I really enjoyed from both a professional and personal perspective. I'm looking forward to taking that energy in to 2019.
---