[toc]
Introduction
Well, another vForum Australia event has come and gone this week and I thought I'd take a few moments to reflect on my few busy days spent in Sydney attending this event.
This was my third time attending vForum, and this roughly reflects how long I've seriously been working in the VMware ecosystem. While the last two years were OK, this year was my favourite by far, most likely due to not being afraid to meet new people and get involved in some events. Earlier this year I had a career change, and when that happened I had some moments of clarity which also resulted in me wanting to achieve some personal goals as well, and a big part of that is around community involvement. Although it is early in my own personal journey, having a glimpse into the great communities that are involved in different pockets of the IT world has been an eye opener and is an area I will personally be trying to put a lot of focus into, all while trying to manage that work / life / family balance thing!
I flew into Sydney on Tuesday and out again on Thursday evening. This year the 'tech day' All Access Pass day was first, on the Wednesday, and while I wasn't there for the sessions, I knew this was likely going to be the most valuable day at the conference itself. I've listed down a few of my highlights below and I hope you enjoy the read. I need to get more photos next time!
VMDownUnderground
VMDownUnderground is an event that takes place the evening prior to vForum and aims to bring people together to have a few drinks and a few bites to eat, thanks to a sponsor who this year was Veeam. It's a chance to meet new people, catch up with old friends that come from far and wide and in general have a great time. I was going to attend with a colleague, but he flew in from NZ early and had a long day working on a critical incident with a customer, so I went solo.
After having an interesting Uber ride to the venue, where the driver decided that backed up traffic was actually a row of parked cars and pulled out into oncoming traffic against my appeal, I arrived at the venue. Although a bit awkward at the start as I was a bit late so everyone was engaged in conversation and I didn't know anyone, I managed to creep myself into some conversations and meet some great guys. I spent a lot of the evening talking to guys from the vBrownBag crew and guys who are involved in the VMUG events around Australia. I've been toying with the idea of getting a VMUG of sorts happening again in Tasmania, so it was great to be able to chat to them in general.
I ended up staying a few hours later than originally planned, but it was worth it. A great evening at a fantastic venue all thanks to Veeam. If you go to vForum I highly recommend checking out the VMDownUnderground party.
Breakfast With Kit Colbert
I was lucky enough to get an invitiation to a breakfast event on Wednesday morning with the vChampion crew where Kit Colbert was gracious enough to come in and have an open discussion with no set agenda. We were located in the Arthur Morris Room at the SCG (awesome view of the ground!). In total there were around 30-35 people in attendance. During the mingling before the breakfast, I got to quickly meet a few guys who I follow / have met on twitter which was great.
We settled into breakfast and Kit sat up the front and gave a quick intro and basically opened up the floor for those in attendance to throw questions at him. It was insightful to be able to listen to Kit address questions about the usual hot topics - DevOps and containers and how the 'big players' (Facebook, Amazon, Google) incorporate these technologies and methodologies - but it was also good to hear some more practical and left of field questions being asked, such as actually being able to adopt some of these processes in smaller environments, data protection / backup direction, ITIL relevance, among others.
The hour went quick and soon enough it was time to wrap up and head across to the main event.
vForum Tech Day (Day 1)
After heading across to the main event location after breakfast and getting some quick bearings on the layout, we decided to jump into a vSAN deep dive session. I personally wasn't attending vForum for the sessions, as a lot of the content is available on demand after the videos from VMwold have been made public, but I thought I would check at least two out. I would have liked to check out some of the partner sessions on day 2, but an early evening flight home didn't allow for me to do so. The vSAN Deep Dive session was OK, it probably wasn't what I would call a deep dive. We were probably 5-10 minutes late to the session due to breakfast, and after we got there, there was around another 5-10 minutes of what I would call general overview and architecture chat. A deep dive in my mind is a 1-2 minute intro and then bam, straight into the nuts and bolts.
After the session, I had a quick roam around the main expo area to see who was around. I went over to the VMUG booth to see how they were going and also to check in with the vBrownBag crew, as I was doing a small talk later in the morning (see below).
After the vBrownBag sessions, we grabbed some lunch and took a few minutes to catch up on work in the lounge, as things still break when you are away (maybe more so) and customers still have needs that have to be met. The afternoon was mostly spent by going around the expo area and catching up with old friends and making new ones. We caught up with the guys at Rubrik and a few of the VMware employees at the vExpert booth as well. In the afternoon we needed a sit down, and the break out rooms in the cinema were a good excuse as they had comfy chairs, so we jumped in on the 'What's new in 6.5' session. For me personally there was nothing new here, as I have been following this pretty closely since Barcelona, but it was cool to hear some of the questions people had at the end.
Another hour or so of mingling was spent and we called it quits back to the hotel to catch up on work again, and then hit a pub for a few beers. We spent the evening with some of the VMware team and ate at LP's Quality Meats - wow is all I can say about the food.
vBrownBag Tech Talks
This aligns with my earlier comment of more community involvement. Around a month prior to vForum, I saw that the vBrownBag crew were looking for people to so a Tech Talk at vForum. A Tech Talk is a 10-15 minute talk on any particular topic of interest. I'd recently seen and had started working on a community based project named Vester, and thought this would be a great opportunity to do something in the community, and also break a comfort zone of my own.
A big thanks to Brett Johnson and Alastair Cooke in particular, and also the sponsors that allowed this to happen. A big thanks to the other speakers as well who put themselves forward and found the time to present on a topic of interest. I'm happy to say I was a part of this and I'll be keen to see on how else I can get involved with the vBrownBag events in the future. If you want to check out the playback for the sessions the link is below. With mine in particular, if you want a drinking game hit a shot at every umm and arr, you'll be drunk a few minutes in :) There is a shot below of Frank Yoo doing his talk on REST APIs as well.
http://vbrownbag.com/2016/11/vforum-sydney-its-happening-now/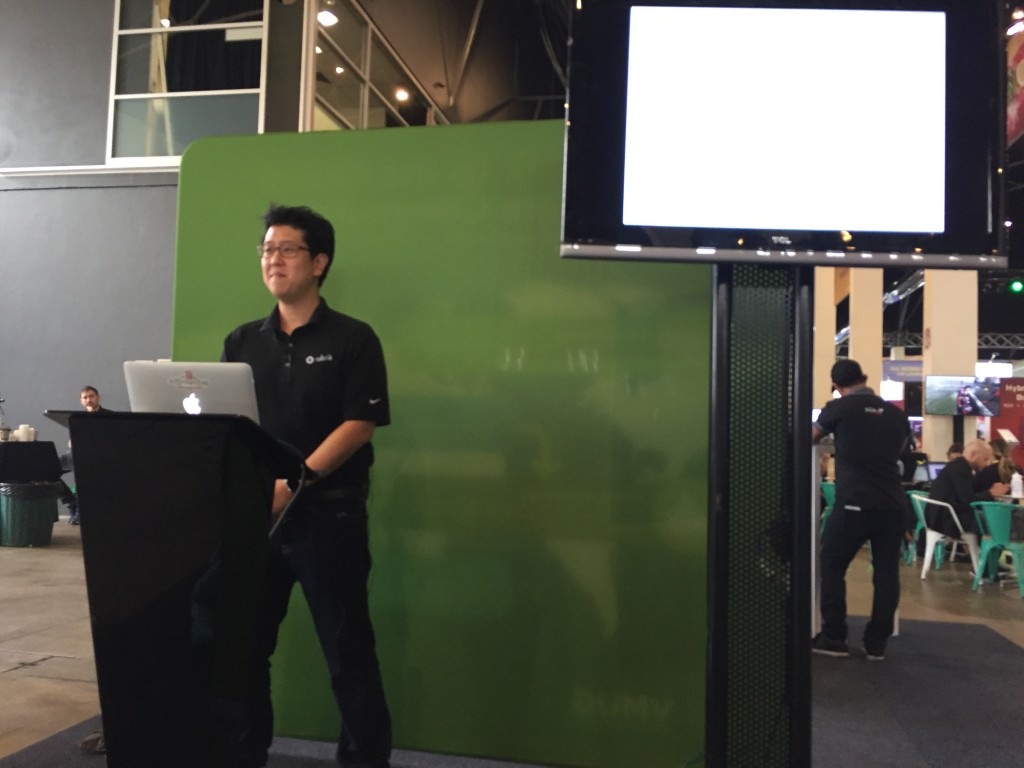 vForum General Access (Day 2)
Day two got off to a slow start for us, thankfully not due to hangover, but we had a few customer meetings that we couldn't move and also had to log in to do some high priority work. This meant the unfortunately we missed the main keynote.
Day 2 was pretty busy and had a fair number of people, at least this year there was no hot outside tent that got too overloaded and required guys to stand outside and monitor how many people were in at any one time so it didn't collapse! We spent the majority of day 2 going around the expo hall, catching up with a few people from vendors and partners that weren't there on day 1 and checking out some of the day 2 vBrownBag Tech Talks. We didn't attend any of the general sessions on day 2 - not enough time! Before we knew it, it was 2:30 PM and we had to make a move to go back to the hotel and collect our bags and then head off to the airport, where a much needed beverage was consumed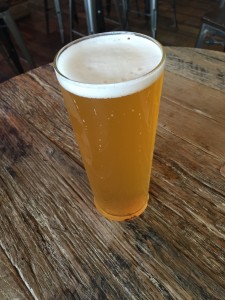 Summary
All in all, I really enjoyed myself this time. I met new people, most of which I had seen or met on Twitter, so it was great to put a face to the name in person. The highlights for me were the VMDownUnderground event and the vBrownBag Tech Talks. Hopefully vForum is an event I will be able to attend for years to come, being able to be involved in the community and help to contribute in one way or another is fulfilling and something I'll be pursuing over the next 12 months.
Until next time Sydney!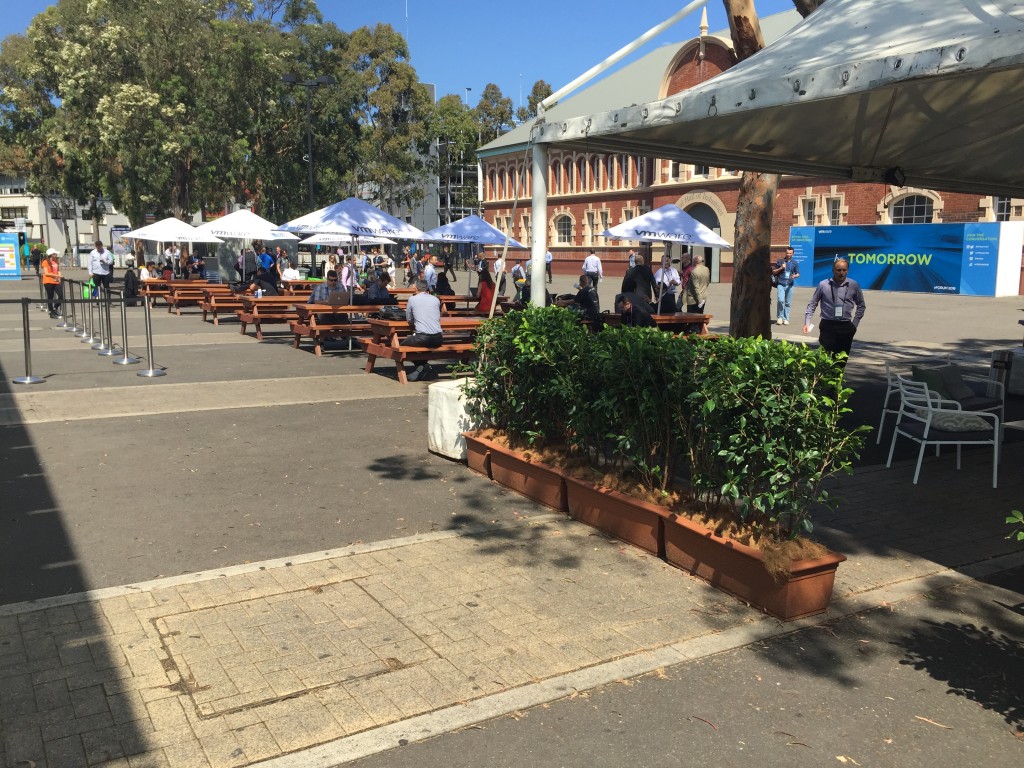 ---
See also